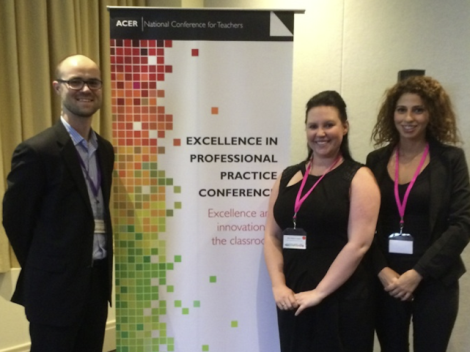 Benjamin with Rebecca and Theresa
Holy Family Primary School, East Granville has been recognised for their innovative 'Jump Up' program at the Australian Council for Educational Research's Excellence in Professional Practice Conference held in Melbourne recently.
Assistant Principal Benjamin Munday, along with Kindergarten teachers Theresa Bainy and Rebecca Sargent, delivered two presentations at the 2014 conference. The ACER conference theme this year was 'Teachers driving school improvement'.
The first presentation,
Knowing our kids from day one: Data driven early intervention
, outlined Holy Family's approach to Kindergarten Orientation and their innovative 'Jump Up' program that helped smooth the transition to Kindergarten for a number of students. Benjamin, Theresa and Rebecca were honoured with an Outstanding Presentation Award for their work on this project.
The second presentation,
English as an Additional language (EAL) When EAL pedagogy is not enough: Identifying the influence of language delays
, outlined the process of identifying the specific language needs of Kindergarten children and the choices about teaching and learning that teachers make based on that information.
Benjamin Munday said feedback from fellow delegates at the conference was overwhelmingly positive. 'There was a lot of interest in the way we used technology to help us collect data, identify the needs of students and make decisions about what to teach next based on that information,' said Benjamin.
'Using iPads and a Google spreadsheet shared through Google Drive, we were able to collect and analyse the data in a single place, all in real time. This turned heads at the conference, as schools all around Australia and the world expressed interest in how we able to put faces on the data before the children even began Kindergarten – after all, every one of those data entries is somebody's special little person,' Benjamin said.
Teachers from Holy Family Primary School were the only representatives from New South Wales Catholic schools at the conference. Mary Creenaune and Alma George from Student Services also attended the presentations.
Early career teachers Theresa Bainy and Rebecca Sargent said they were grateful for the opportunity to present at the conference but were just as excited to get back to the faces of the children they spent the weekend talking about.