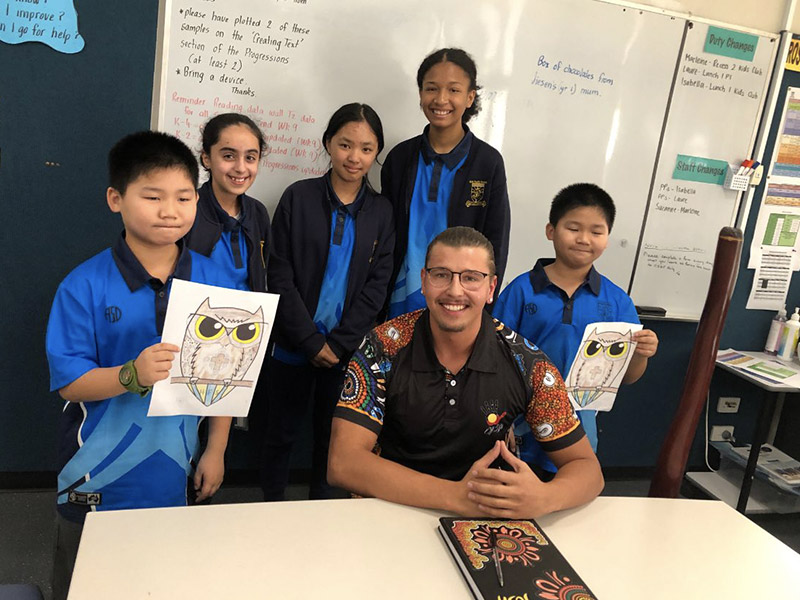 On Tuesday 16 June Holy Family Granville students were visited by the Jarara Indigenous Education Unit to learn about Indigenous history and culture as they helped design an owl mascot for the school.
The Jarara Indigenous Education Unit works with Aboriginal and Torres Strait Islander students and their families across primary and secondary Catholic schools in the Diocese of Parramatta.
Led by Catholic Education Diocese of Parramatta Aboriginal Education Assistant Josh Sly, Holy Family students learned about aboriginal art styles as they produced beautiful artworks which will form the basis of a school owl mascot.
"It was an amazing experience from my point of view so I can only imagine how the students felt being able to engage with the history and culture", said Coordinator of the event, Josephine Edwards.
"I can't wait to see the final art!"
Holy Family Granville students Sienna, Sukkum, Morgan, Jerry and Zivelle provided an enthusiastic reflection of their experience and the creation of their owl mascot.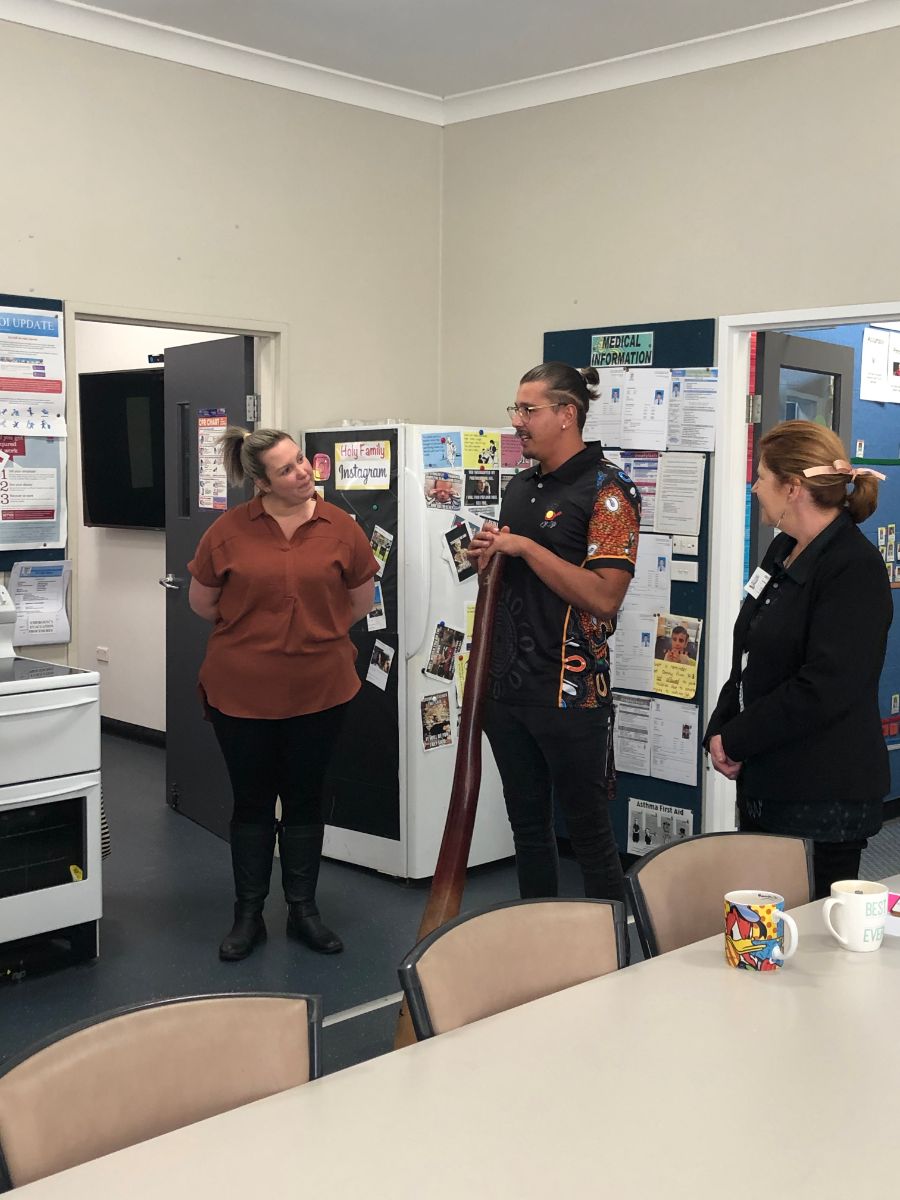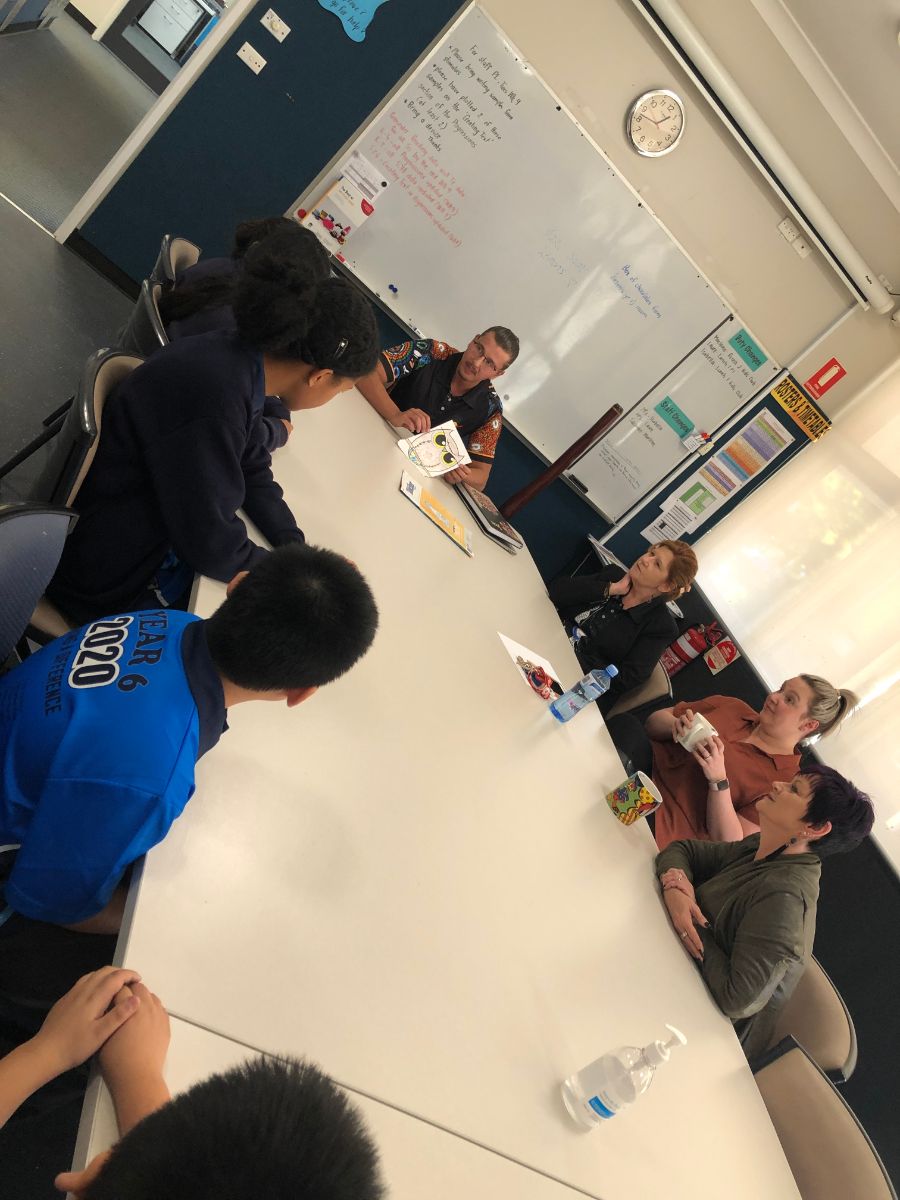 See all the photos from this event
The meeting
As excitement rained over us we headed to the staff room to greet our visitors. Awaiting us were Josh and Julie from Jarara. Josh welcomed us with a traditional play of the didgeridoo/yidaki. At the start we introduced ourselves to each other and talked about the fact that we were all born in different countries and this makes us a part of the multicultural family.
During our time with Josh and Julie, we did not just enjoy editing and adding onto our original design but Josh and Julie also taught us many new interesting facts about their art style in Aboriginal culture.
What we learnt about Aboriginal art styles
One thing that we learnt was that the didgeridoo got its name from the common rhythm and the sound it can make.
We also learnt about many Aboriginal art styles and different aspects of Aboriginal lifestyle. Aboriginals had many different ways to create artworks using mother nature. They used crushed rocks (ochre and sand stone) and water for paint, and carved into trees without harming them. The Aboriginals most commonly used earthy ochre colours such as red, brown and orange. Aboriginals are not allowed to collect ochre unless permitted to. Many rare ocher colours could only be collected by tribal elders and significant members of their tribe. Rare colours included purple & blue rocks, that could only be found in specific places.
Aboriginal artworks were also organised into categories.
There are artworks only some families, genders or people can do. An example of this is the bush medicine artwork. This art style was specifically for females so men were unable to create this genre of art (which disappointed Morgan and Jerry because they loved this style).
As we all are aware, dot painting is a popular form of Aboriginal art. It has many meanings and is very pleasing at first sight. It uses many different colours such as Red, Orange and Yellow. When dot painting first originated it was used to cover up information that only specific people could know about. The different sized dots are used to conceal a message and have evolved into the wonderful art it is now. Using the dots to cover up the picture was to help the person remember what they needed to.
Using this new knowledge and working with Josh, we added Aboriginal elements to our design. We added things to our design to represent our connection as a school, to the traditional custodians of the land on which our school is built. We now wait in anticipation for the completed design from Josh and Julie and can't wait for this to be shared with us!
We had a great experience and would like to thank Josh and Julie for sharing their talents and culture with our school.
---
Learn more about Holy Family Granville
Learn more about Jarara